Motopood > Shark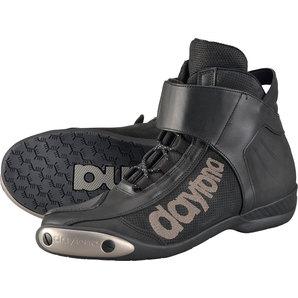 281
Daytona AC-Pro Short Boots
For sporty biking and relaxed roaming. The new Daytona AC Pro is the perfect answer.
Comfort/features:

Replaceable and extremely abrasion-resistant titanium toe sliders
Anatomically shaped footbed
Abrasion-resistant PU gear-shift area
Plastic-reinforced inner sole with hot-galvanised steel shank
Laces plus hook-and-loop closure
Extremely abrasion-resistant titanium toe slider can be replaced
Material:

material mix of smooth leather and perforated leather
Textile lining (100% polyester)
Rubber sole
Good to know:
Availability of extra-small and extra-large sizes
The most popular boot sizes from Daytona are 37 to 47. Louis usually has these in stock and can dispatch them quickly when you place your order. Extra-small (34 to 36) and extra-large (48 to 51) sizes, on the other hand, are only produced in relatively small quantities by Daytona, due to lower demand, and in some cases only to order. For this reason, if you order one of these sizes, delivery may take a little longer. We trust you will understand, and we promise to deliver your order as quickly as possible.

Toote kood: loid202492
Tootja: Daytona Stiefel
Suuruste sobivus: vaata siit
100% raha tagasi garantii:
14 päeva jooksul vahetuse võimalus:
Liisingu taotlust saab täita tellimuse vormistamisel.
Valikud


Lisa korvi
Tasuta tarne
Esita toote kohta küsimus