Motopood > HONDA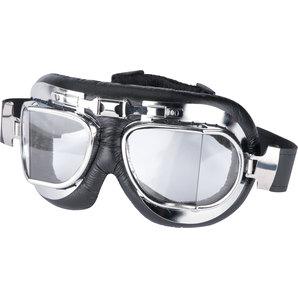 670
Highway 1 Classic Google
Highway 1 Classic goggles
This classic design is modelled on the goggles used by aviators in the early days of aeronautics. As back then, these goggles can still be relied on to protect your eyes from wind and ensure good visibility. The frame is stitched to a soft plastic body. The lenses are shatterproof plastic and made to last.
Frame colour: silver
Lenses: clear, double-sided anti-fog (CATEGORY 0)

Individually adjustable head strap
Padded with leatherette to protect eyes from wind
100% UV protection
GENERAL INFORMATION
Lenses are divided into the following filter categories
CATEGORY 0: clear or very light tinted
CATEGORY 1: light tinted
CATEGORY 2: medium tinted
CATEGORY 3: dark tinted
CATEGORY 4: very dark tinted
Only lenses in filter categories 0 to 3 are approved for use on public roads.

Toote kood: loid20016091
Tootja: Highway 1
Suuruste sobivus: vaata siit
100% raha tagasi garantii:
14 päeva jooksul vahetuse võimalus:
Liisingu taotlust saab täita tellimuse vormistamisel.
Valikud

Esita toote kohta küsimus