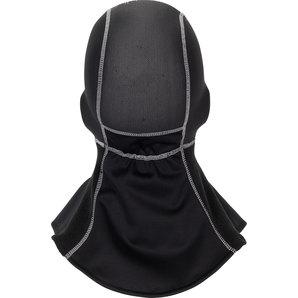 46
Vanucci Windmaster 2.0 balaclava
This isn't just a balaclava, it's the "next generation": Vanucci Balaclava with SympaTex-WINDMASTER 2.0! It fits like a second skin and also keeps your neck and chest wonderfully warm. Fantastic comfort combined with complete protection against cold wind blast. What's more, you'll be impressed by the fit of this balaclava!

Head section made of very elastic, breathable technical fibres. Moisture is transported directly to the outside (Scotchgard treatment)
Neck and chest section made of wind- and water-repellent SympaTex-WINDMASTER Fleece
Material:
Head section (90% polyester, 10% elastane)
Chest section (100% polyester)

Fit:
Helmet size XS/S corresponds to S
Helmet size M corresponds to M
Helmet size L corresponds to L
Helmet size XL/XXL corresponds to XL
Good to know:
SympaTex-WINDMASTER offers high-tech wind protection you can rely on to keep out cold winds and light rain. Invisibly incorporated in the garment, WINDMASTER ensures optimum breathability and perfect comfort while creating a warming layer of air between your body and clothing.

Toote kood: loid218501
Tootja: Vanucci
Suuruste sobivus: vaata siit
100% raha tagasi garantii:
14 päeva jooksul vahetuse võimalus:
Liisingu taotlust saab täita tellimuse vormistamisel.
Valikud

Esita toote kohta küsimus